On August 1, 2023, the Ministry of Public Security issued Circular No. 32/2023/TT-BCA stipulating the tasks, powers, form, content and process of patrolling, controlling and handling administrative violations traffic police department of the Traffic Police.
=> see more: Reduction of loan interest at the requirements of state Resource
Accordingly, a number of regulations related to cases in which the Traffic Police are allowed to stop vehicles for inspection and requirements when stopping vehicles for inspection are specified in this Circular effective from September 15, 2023. , As follows: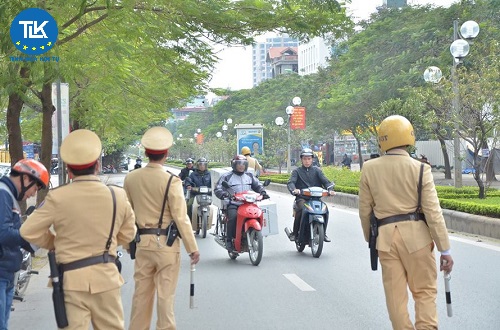 Photo 1. Regulations on Traffic Police allowing vehicles to stop for inspection from September 15, 2023_Hotline: 097 211 8764
1. Cases where traffic police officers perform patrolling and control tasks as planned are allowed to stop traffic for control
- Directly detect or through means and professional technical equipment detect and collect violations of road traffic laws and other violations of law;
- Implement orders and plans for total vehicle control to ensure road traffic order and safety and social order; Plans for patrolling, controlling, and handling violations according to topics to ensure order, road traffic safety, and social order have been promulgated by competent authorities;
- There is a written request from the Head or Deputy Head of the investigation agency; Written request from relevant authorities to stop traffic vehicles for control to ensure security and order; fight against crime; preventing and fighting natural disasters, fires and explosions; disease prevention and control; rescue, rescuing and other illegal acts. The written request must specify the time, route, means of transport stopped for control and handling, and the forces involved in coordination;
- There are reports, reports, recommendations, and denunciations from organizations and individuals about violations of the law by people and vehicles participating in road traffic.
2. General requirements must be met when stopping and controlling traffic
- Safe, in accordance with the law, not obstructing traffic activities;
- Once the vehicle has stopped, it is necessary to control and handle violations (if any) according to regulations.
Note:
- When stopping or controlling at a point on a traffic road, at a Traffic Police Station, the above general requirements and the following additional requirements (1) must be met:
+ Place barriers with cone-shaped cones or ropes along the road in the road, lane close to the curb or sidewalk to form an area to ensure traffic order and safety according to regulations of the Ministry of Public Works. implementing democracy in ensuring traffic order and safety. Based on the actual situation and traffic route characteristics, deploy the appropriate barrier length to ensure safety;
+ The area ensuring traffic order and safety must comply with the provisions of law on road traffic and other relevant laws; Sufficient area to arrange and install professional technical means and equipment, control and handle violations; Based on the actual situation in the control area and control topic, Traffic Police officers can be arranged to guide and regulate traffic, ensuring traffic safety.
- When stopping and controlling traffic on the highway, the above general requirements, additional requirement number (1) and the following requirements must be met:
+ When controlling at a point, traffic vehicles can only be stopped to control and handle violations at the following locations: Toll station area, starting and ending points of the expressway;
+ When patrolling and mobile control, vehicles are only allowed to stop in the emergency vehicle stopping lane to control and handle violations in the following cases: Detecting serious violations of traffic order and safety, immediate risk of traffic safety; coordinate the fight against crime; preventing and fighting natural disasters, fires and explosions; rescue and salvage; reports, denunciations, and reports on illegal acts of people and vehicles traveling on the highway; detect vehicles stopping or parking illegally on the highway. After resolving the incident, the traffic poles, ropes, and signs must be cleaned up and moved immediately;
+ Put the sign No. 245a "Go slowly" or sign No. 245b (for foreign routes) in front of the Traffic Police Team in the direction of the traffic to be controlled to go in accordance with the regulations of the signaling law. Road.
=> See more: Officially added place of birth to the passport under the new law from August 15, 2023
Photo 2. Free legal consultation_ Hotline: 097 211 8764
Socio-Economic General Department – TLK . Law Firm
Dear readers, TLK Law Firm, Ltd., in addition to providing you with useful knowledge information about economic, cultural and social life, we are also an organization providing legal services. ; Professional accounting - tax and trade promotion with many years of experience.
With the desire to carry out social responsibility, accordingly, if you need advice on legal issues, please contact us at hotline: 097 211 8764 for advice from a lawyer. directly (completely free consultation)